With Sunday River opening November 8 for the season and being open Halloween day looks like Sunday River is the winner for the 2007-2008 Eastern Resorts run to be the first to have Skiing and Snowboarding.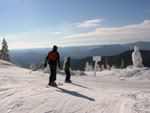 Until 2 or 3 years ago Killington was always the first. Opening day varied anywhere from October 21st and on. Wasn't always pretty but it was skiing.
Skiers and snow boarders should have more to choose from this weekend 11/17/2007.
Vermont:
Okemo
Sugarbush
Killington
Maine:
Sugarloaf USA
Sunday River
Attitash in New Hampshire is trying to open the 18th
Okemo Vermont
"We've got great news here at Okemo – Opening Day has been moved UP to THIS FRIDAY, November 16! The 2007-2008 season will officially begin at 9 a.m. as we drop the ropes on 11 trails, including Upper World Cup, Defiance, Sapphire, Timberline, and several other trails. We'll have 5 lifts running to ensure you can make the most of your first day back on snow. Please note that skiing and riding will be on the Upper Mountain only, and is recommended for Intermediate and Advanced riders only.
Early season ticket prices will be in effect on Opening Day, with Adult tickets priced at $45, Young Adults and Seniors at $38, and Juniors and Super Seniors at $29. Half day rates will also be available.
Don't forget about Okemo's upcoming Ski Swap and Sale, which will begin this Friday and run through Sunday afternoon. If you'd like to sell your used gear, there's still time to drop it off! Drop-offs will be accepted today from 10 to 3 at the Ski Patrol Building in the Main Base Area. Make sure to stop by the Swap this weekend for great deals on new and pre-owned equipment! "
GIFT IDEA
"Winter Arrives Early to Sugarbush"
"Sugarbush Resort Plans a Special Sneak Preview this Weekend
Warren, VT (November 14, 2007)- It's time to get the gear out; winter is here. Sugarbush Resort announced today that it plans to spin the lifts at Lincoln Peak for skiers and riders this Saturday and Sunday for a special "Sneak Preview" weekend. The official opening of the 2007-08 winter season is still slated for Thanksgiving, but in the words of one resort official, "It's just too nice up there not to have it open this weekend."
While the quality of the snow played a part in the Resort's decision to open early, the return of a ski legend was also a factor. Stein Eriksen, who ran Sugarbush's ski and ride school in the mid 1960s and won an Olympic gold medal, will be returning to the Resort this weekend. The New England Ski Museum will present the icon with their Spirit of Skiing award Saturday night during the Museum's 30th birthday celebration in the Gate House Lodge. As of press time, only seven tickets remained for the special event. Tickets can be purchased by calling the New England Ski Museum at 800-639-4181.
Contingent upon a standard state inspection of Resort lifts scheduled for this Friday, Sugarbush plans to run the Super Bravo and Heaven's Gate chair from 9 a.m. to 3 p.m. on both Saturday and Sunday with skiing and riding on Upper Jester, Downspout and Organgrinder. Resort officials expect to be downloading on the Super Bravo chair, but if conditions permit, crews will attempt to lay down enough snow for top-to-bottom skiing.
"Our snowmaking crews have put down a great base from the top (of Lincoln Peak) to the bottom of Heaven's Gate," said Sugarbush's Director of Communications JJ Toland. "Nighttime temperatures should be back in the teens come Thursday night and we will make every effort to have top-to-bottom skiing and riding come Saturday. We just ask that folks check the website for the latest info before coming up to the hill Saturday morning."
Lift tickets will be $40 for all adults, $36 for SugarCard holders and $30 for juniors. Because the Stein Eriksen event will be taking place in the Gate House, the lodge's food court will not be open. Food and drink will be served in the Castlerock Pub and Timbers restaurant. After this Sunday, the lifts will not spin again until the official start of the winter season: Thursday, November 22nd. Visit sugarbush.com for the latest information on the start of winter operations." From Sugarbush.com
GIFT IDEA
Killington Opens for season
We kick off the 2007-08 ski and snowboard season Friday at 9 a.m. with up to 19 trails served by three lifts off Killington Peak and Snowdon Mountain. For the latest lift and trail offerings, check out the
Snow Report
! For the past two weeks we have had hundreds of snowguns producing a massive amount of snow. In fact, we've been able to produce almost twice as much snow this year as we've produced for opening day the prior three years. And over the next 36 hours snowcats will be working the snow surface to provide you the best possible opening day conditions.The K-1 Express Gondola, Northridge Triple and Snowdon Poma will operate on Friday, with the addition of the Snowdon Triple and Snowdon Quad on Saturday. The Reason Terrain Park at Killington Peak will also open on Friday with nine features, including a 28-foot down bar, 28-foot round bar and a hip/table jump. Featured trails include Downdraft Headwall, Rime, Reason, Upper East Fall, Chute and Bunny Buster.All skier/rider services will be available at the K-1 Lodge. The Killington Ski and Snowboard School will offer private lessons at the K-1 Lodge for adults and children who are Blue Square and Black Diamond level skiers and riders. Opening day lift tickets are $60 for Adults (19-64); $48 for Young Adult (13-18) and Senior (65-69); and $42 for Junior (6-12) and Super Senior (70+). Lift hours are 9 a.m. to 4 p.m. weekdays and 8 a.m. to 4 p.m. weekends and holidays.
Loaded Turkey 4 2/3Sunday we kick off the events season here at Killington with the
Loaded Turkey Rail Jam
at the Reason Terrain Park at Killington Peak. Prizes include a ton of cool gear from our sponsors, plus a turkey for first place, stuffing for second place and cranberry sauce for third place. Winners will also qualify for the $15,000
Mountain Dew Rails to Riches Rail Jam
on Dec. 8.
Sunday River Report
"I've been chatting with our snowmaking team and all they can talk about is how badly they want to get you out on more terrain. Today was great but it's nothing compared to what they have in mind.
This weekend they'll have the chance to work towards that goal as cold temps return late Thursday into Friday. They have their eyes on expanding towards Spruce and South Ridge as temps allow so stay tuned here for the most up to date info.
For Thursday we're looking to have 9 trails open serviced by the Locke Mountain Triple and Sunday River Express, starting at 9am. All services will be out of the Barker Lodge and open terrain is for intermediate to advanced abilities only. Early season ticket prices are $35 for Adults/Young Adults, $25 for Seniors/Juniors, and $20 for an Afternoon Half-Day ticket." From SR Website
Temp in New England are expected to fall and snow is in the forcast for the weekend in the mountains. Further north the betterm My call is Sunday River
Get Outside and enjoy
The Northeast Ski Zone Store